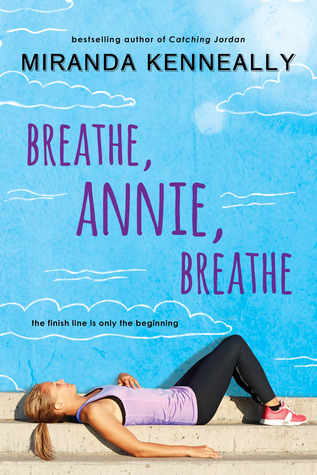 Rating: 4.5 out of 5 (Great! Solid book with minimal issues)
Breathe, Annie, Breathe by Miranda Kenneally is the latest release for the Hundred Oaks series. I was not familiar with the series or author but enjoyed the story immensely. I was initially drawn to this book, because the main character is training for a marathon. I will be running a half marathon in November and just started my training. After reading, I felt like I received a little pep talk and really loved the athletic aspect of this story. I quickly devoured this book and loved every minute.
The Skinny
Annie is a senior in high school about to graduate and start college. Her life is overly complicated as she deals with the recent and accidental death of her boyfriend Kyle who was training for his first marathon. In memory of Kyle, Annie dedicates herself to running the marathon with absolutely no experience or endurance. She joins a running group where she meets and is instantly attracted to mysterious and athletic Jeremiah. With the pain of Kyle's death still fresh in her mind, Annie is not sure how to move on and deal with her new feelings for Jeremiah.
My Thoughts: Readers Should be Running Toward This Book
When I finished this book, I was definitely feeling a reading hangover. I wanted the story to keep going because it's so addicting. I immediately identified with Annie's apprehension and feelings toward running a marathon. Like Annie, I am not the best runner, but this is a challenge I have always wanted to overcome. This story made me feel like Annie and I were on a journey together which made me root for her that much more. The training details are accurate and realistic including the interactions between Annie and her trainer, Matt.
"He hops off his bike and pushes it along beside me. I can't believe he walks as fast as I run. "You need anything? Water? Tylenol? Vaseline?"
"Vaseline?"
He shrugs. "Yeah, for chafing. Are you having any issues?"
Never in my wildest dreams did I imagine a man would ask if I'm chafing. "No, thanks."
I remember laughing at this. This is the less glamorous side of running which can definitely ruin your day pounding the pavement. I'm glad the author has knowledge about marathon training, because it provides a more authentic story for the reader. This is definitely a strong component of the book.
Kenneally did a stellar job developing characters, Annie and Jeremiah. On the surface they are attractive and seemingly normal teenagers; however, what's underneath really adds the depth to the story. Annie is dealing with the loss of her future with Kyle and feeling guilty about her new feelings for Jeremiah. I admire Annie's drive and dedication to running which made me excited to begin training myself. Before meeting Annie, Jeremiah is an adrenaline junkie and lady's man. He's only thought about himself and finding the next adrenaline high, but that all changes when he finds himself falling in love for the first time with Annie. Both characters are dealing with family drama on top of everything else providing the reader a vivid picture of their lives. I love Jeremiah for Annie, because they complement each other so well. Each character is damaged is some way, but together they find solace in one another.
My only issue with this book is the end. The story ends abruptly leaving the reader to speculate, and it feels unfinished. I would have rated this book a five if it wasn't for the end. I really wanted to have a more complete story; however, I was still very impressed and really enjoyed reading Annie's story. Ending aside, this book is definitely a refreshing take on teenage romance which I absolutely loved.
I would definitely recommend this book to readers 17 years and above due to some sexual content. If you enjoy contemporary, romance, and coming of age stories this is right up your alley.
**I obtained a digital copy of this book via NetGalley.